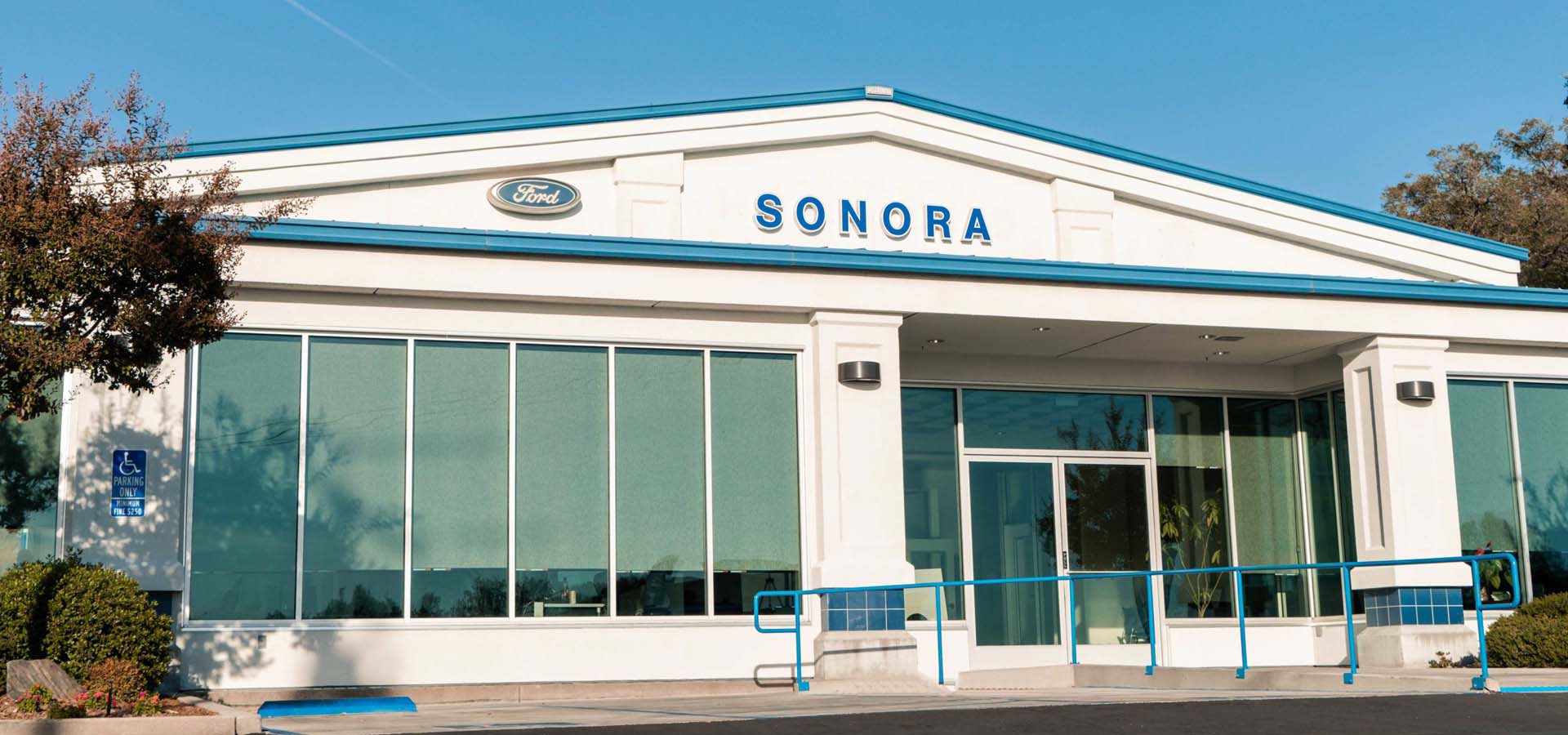 The Story Behind Sonora Ford
Sonora Ford is owned and operated by the
Prieto Automotive group
. This ownership allows us to achieve greater goals such as providing excellent service while benefiting the community for everyone. 
One of the main goals of the Prieto Automotive Group is to focus on community relationships, not just service and sales of great vehicles. Sonora Ford provides valuable job opportunities to the local community, excellent Ford vehicles, and the same valuable welcome the Sonora area has shown us.
Lead by Example
Kelly Robinson
, our general manager, has focused his efforts on providing the local community with excellent opportunities. He is driven to offer Ford's excellent cars and trucks to everyone, encouraging all our employees to offer small-town service that Sonora provides. 
With his leadership, we have a passion to give back to the community that has been so welcoming and supportive. He cheers us on to support local events, provide help to several local charities, and help drive movements for the benefit of everyone.
Sonora County Area
In the calm heart of California, Sonora county offers a diverse escape from the busy cities that California is known for. Sonora was founded during the gold rush, and after the gold had dried up, the area was left with its wonderful nature that's priceless compared to gold and silver. 
While Sonora has a rich history in the goldrush and nature, it is a fully modern city catering to great local vineyards, great nature trails that help teach people to preserve mother nature's bounty, and a thriving community that holds events throughout the year.
The Welcoming Small Town Environment
As Sonora is a small town with just under 5,000 inhabitants, it offers the area a comfortable experience with a tight-knit community. Virtually everyone is a neighbor, or someone is some else's niece or nephew. This creates such a welcoming and homely environment where everyone treats each other and any visitor like family. 
Whether someone goes downtown to the small mom-and-pop shops to soak in the relaxed and humbling atmosphere, or simply walk among the historic buildings, Sonora, California offers that amazing small-town vibe we all love.
Our Welcome
Sonora Ford has been inspired to create the same comfortable environment that Sonora, California has shown us. We pride ourselves on offering the same welcome as everyone would receive at any of the amazing mom-and-pop shops downtown. If a customer is a local, they'll be treated like close family; if they're from out of town, we'll do our best to embrace them like a long-lost cousin.
Preserving Sonora's Nature
The Sonora area is rich with beautiful nature. Yosemite National Park is one of the greatest sights anyone can see with picturesque mountains and a forest abundant with life. Sonora is also home to the Stanislaus National Forest in eastern Tuolumne county, one of the oldest national forests that have retained its beauty for several generations. 
With the abundance of nature around Sonora, Sonora Ford is proud to sell fuel-efficient vehicles that help preserve beautiful nature. We support the mindset that everyone must work together to help keep this nature pristine for generations to come.
Supporting the Local Economy
As Sonora is a small town, it is vital to growing the local economy. Sonora Ford focuses on hiring locals for our amazing positions which helps develop jobs and families here. We aspire to provide the same small-town comforts and service to out-of-town folks to help drive business not just to our dealership, but to the local area as these customers come and experience Sonora's small-town atmosphere.
We're Here to Help
We focus on helping anyone with their car's issues. No matter what problem a customer's Ford or other make or model of vehicle has, we wish all our customers to feel rest assured. We have your back. 
If someone is in a pinch as their tire suddenly has a screw in it, we'll patch their tires. If a customer's check engine light comes on, we'll diagnose the issue and offer our services to solve the problem. Or if someone needs a new battery. No matter what the issue is with a Ford vehicle or other make and model of car or truck, we'll help everyone get back on the road.
Giving to Those in Need
The Prieto Automotive Group has achieved many charitable acts for the Sonoma area. Sonora Ford prides itself knowing that the Prieto Automotive Group has supported local sporting events, partnered with associates such as the Leukemia & Lymphoma Society, and has fought for great causes by collecting signatures. 
Our sister dealership,
Subaru of Sonora
, also owned by The Prieto Automotive Group, has made amazing contributions to help the Leukemia & Lymphoma Society. Earlier this summer, they donated blankets and handwritten messages to people undergoing cancer treatment to help keep their bodies and hearts warm. 
Sonora Ford aspires to the same charitable causes to help everyone in need as well. We pledge ourselves to lend our help and support to people going through the hardest situations in life as everyone in the Sonora area would.
The Sonora Ford Experience
When someone comes into Sonora Ford, they can expect the best experience they can expect to receive from a dealership. We'll welcome every customer openly like any store in Sonora would with a warm welcome, treat them like family, and make sure they're completely satisfied with their experience. We will stop at nothing to provide our customers with the best
service
, parts, and
Ford vehicles
.
Service and Excellence
Sonora Ford is a
Ford certified service center
. Our service technicians can diagnose a variety of issues, quickly figure out the cause of the issue with any vehicle, and offer prompt service to get our customers back on the road. They are specially trained to fix any issue a
Ford vehicle
may have, from the smallest of dead lightbulbs to the largest service jobs of engine repair. 
An Informed Experience
When a customer is searching to buy a
Ford vehicle
, we'll help them select which vehicle best suits their needs and budget. We offer a variety of options to accompany our vehicles to personalize each vehicle to the customer's tastes. 
No matter what issue a
Ford vehicle
may have, we focus on providing a detailed explanation of the issue so the customer can fully understand the repair they are requesting. Oftentimes, repairs outside of regularly scheduled maintenance are confusing to understand, but we'll do our best to keep the customer informed.
Friendly Financing
We understand that when a problem occurs, not everyone can be prepared for such an experience. That's why we offer flexible financing for any service or purchase of a
Ford vehicle
to help everyone out. We'll do our best to find the best choice of service to meet your budget and arrange financing that meets your payment goals.
Welcoming Sales
We pride ourselves on offering reliable and rugged
Ford cars and trucks
, both new and used. Ford has a long history of building some of the greatest, most popular, and iconic vehicles in the nation for a great reason. Whether you want a
Mustang
to rip down the roads and those long hauls to the beach, or a rugged
F-150
to climb up the steepest mountains to go camping, we have what you're looking for.
Lasting Service
After purchasing a
Ford vehicle
from Sonora Ford, the customer's experience doesn't just end. We offer maintenance and repair to all Ford vehicles to keep them operating like they just drove off the lot. We also offer services and parts to better customize
Ford vehicles
, such as off-road tires or add-on visual accessories. 
If a customer prefers to perform maintenance on their vehicle, we can offer the proper fluids and parts and guidance for these customers to make sure this job is performed successfully.
Contact Us
If you'd like to purchase a new or used Ford, feel free to drop by anytime and we'll get you in the best vehicle to suit your needs. Or you can visit our website through this link to see our inventory. If you'd like to schedule a service, please call 888-482-7455. We'll arrange a service that works with your schedule.
Hours
Monday

9:00AM - 6:00PM

Tuesday

9:00AM - 6:00PM

Wednesday

9:00AM - 6:00PM

Thursday

9:00AM - 6:00PM

Friday

9:00AM - 6:00PM

Saturday

9:00AM - 6:00PM

Sunday

Closed